Social selling as part of a Multi-channel approach of selling is important. This is because all your prospects will not be active in all channels. To explain this, some of your prospects will not pick up a call from unknown numbers, some will not respond to emails, some will not go to a search engine to find companies, etc. The option left in this case would be social media. Of all the social media channels, LinkedIn is most suited for B2B selling situations even though a few other social media channels are catching up.
So, we have to exhaust all possible options to reach out to potential customer. So, how can we leverage the power of LinkedIn – Social Selling…
Why use Social Selling as another channel to sell?
Multiple buyers in an organization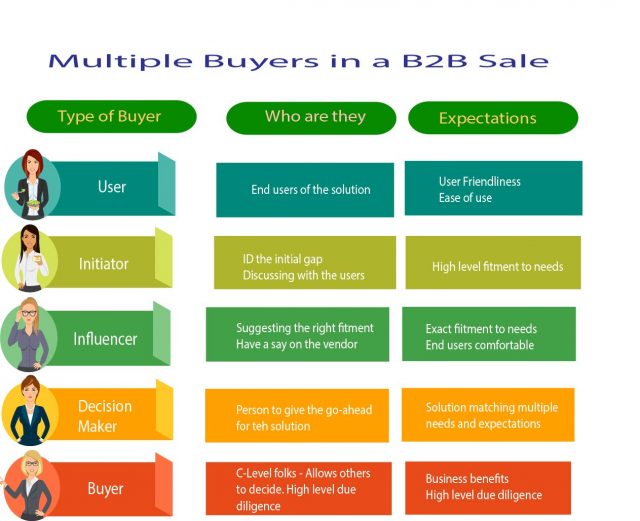 Multiple stages in a buying cycle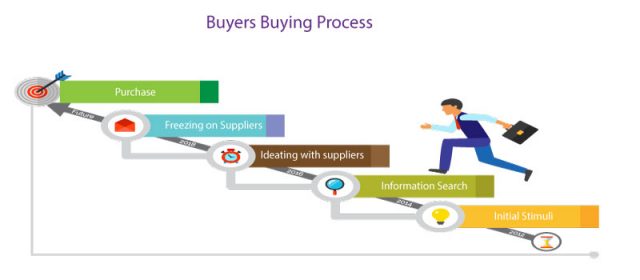 Buyers evaluating multiple companies before calling them for a meeting
Sales people should engage with multiple buyers at the multiple stages of the buyers buying process. This will ensure that you are in the mind of your prospect right from creating a need through the entire stages of their buying cycle. So, there is a fair chance that you end up being the first choice of rejection in the minds of your buyers
A few ways to have a good social selling model
The usual model of cold calling, cold emailing, fixing meetings, presentations to get prospects to consider us in their projects should be supplemented with social selling. Here are a few methods to make your social selling work better for you.
Professional LinkedIn profile
It is important to build a professional profile to let people know who you are and what you do. The attention span that we discussed in another blog is applicable for LinkedIn followers too. Your cover picture in your social media profile should, within a few seconds, convey what value you can add and how you can add value to your buyer persona.
Your prospects will get to see your profile in one of the three ways – LinkedIn search for any specific keyword. Your connect request and People you may know. They would first see the short description of your profile. The information would include the Name, Headline and Current position. If they find the information contextual, they will connect with you or will follow you for receiving additional information through blogs or posts that they can consume. Over a point in time, this interest in consuming your content will motivate them to reach out to you for a deep dive discussion.
Hence spending adequate time on making your LinkedIn profile is important to set the context of your differentiation in your profile. A contextual profile will lead to the right buyer persona connects and engagement.
Reach out to multiple people
Once you decide the list of companies to go after, you can search for the relevant titles within those companies – Buyer Personas. You should begin the connect requests with them on a constant basis. A decent % of them would accept if they see a professional LinkedIn profile as mentioned above.
You can also connect with multiple LinkedIn groups that are relevant to your business and contribute meaningfully to those questions. Your comments will be highly appreciated if they answer to the point and does not sound salesy.
LinkedIn profile in your email signature
You will have to leverage the usage of other channels to build your network to be able to sell through social media. This is because people outside of your network will not even get a chance to know unless one of the two situations happen. 1) They see a post of yours being liked by someone in their network 2) They get the people you may know alert and click to see your profile.
So, you have to be creative in letting people know about your profile. This will help you to increase your number of followers. You must ensure that all your emails have your LinkedIn profile in your signature. Your prospects may not necessarily be in the market for the solutions you are selling at this point in time. However, they might get intrigued about you and might click on your LinkedIn profile in your email signature and might connect with you.
Demonstrate your Thought Leadership
You have to look out for the questions people ask in multiple groups and forums. You have to respond to those and help people by giving them solutions. You also need to own a blog and constantly write meaningfully to help customers find solutions to their problems. When you do that and people find a lot of advice on multiple websites, they automatically perceive you to be a Thought Leader.
Based on constantly connecting and giving meaningful advice, you tend to appear in front of your potential customers without sounding commercial. This will also increase your social acceptance as people will begin expecting the next article of yours and will constantly engage with you and will eventually begin reaching out to you for solutions.
Visit Our Social Selling Services
Visit our youtube channel to get more insight on B2B sales and on digital marketing
Subscribe and get the latest insights on B2B Sales and on Digital Marketing.